Company Profile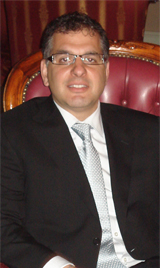 Tony Spagnuolo, B.A. J.D.
Born in Toronto, Mr. Spagnuolo received his preparatory education at York University (B.A. 1989) and legal education at Osgoode Hall Law School (J.D. June 1992). Admitted to the Ontario Bar in 1994, he is a Member in good standing of both the Law Society of Upper Canada and the Canadian Bar Association.
His Focus of Practice lies in the areas of Real Estate,
Corporate & Commercial Law, Family Law, Wills & Estates, Contract Law, Small Claims Court, and Landlord and Tenant Matters. In addition, Mr. Spagnuolo offers services as a registered Notary Public.